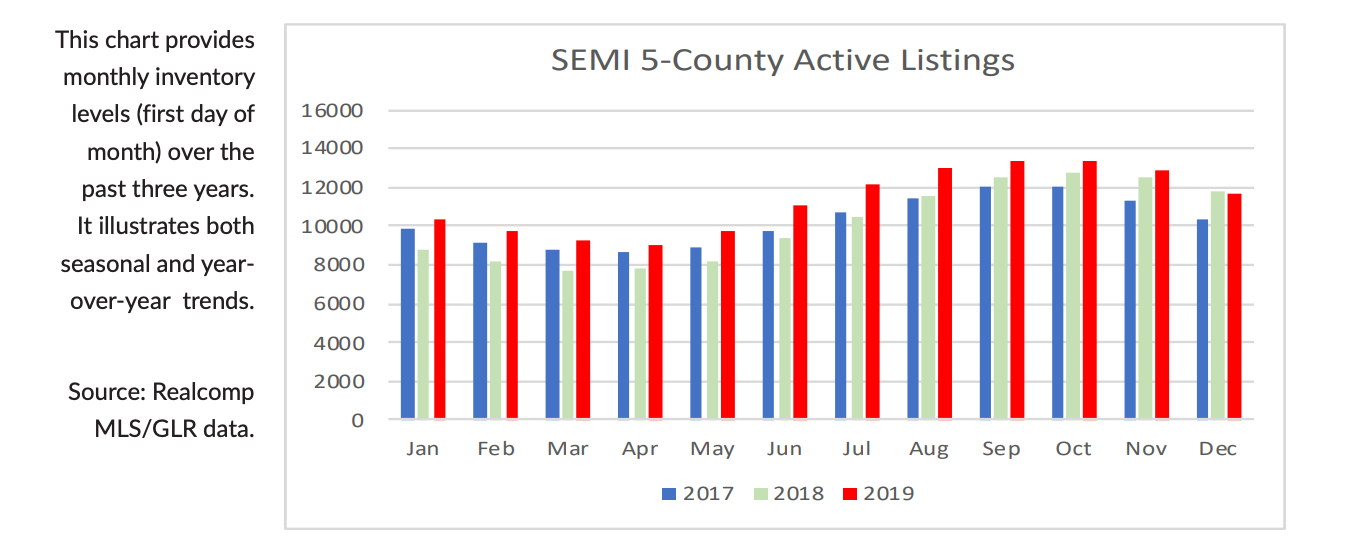 Seasonal inventory levels tend to bottom out in late winter then begin to build back up in April or May before peaking in October. During the big recession inventory levels often hit three-times normal levels. With the exception of a recent fifteen-month period, year-over-year (comparing a given month to the same month but prior year) inventory levels had been falling. In addition to seasonal shifts, the chart above shows where YOY inventory shifted to increasing(August 2018), and the recent shift back to decreasing (December 2019).
In January of 2018, listings were down 11% from the preceding year. In August of 2018, that trend shifted and for the first time in over 10 years, there were more active listings in the later months of 2018 than the same month a year ago. By December of 2018, listings were up by 14%. The spread continued to grow into 2019. It maxed out in March andMay (20% and 19%) before beginning to fall off. This recent November there were only 3% more listing than last year, but on December 1st, current active inventory dropped 1% below last year's level. Inventory levels, which had been trending down for over a decade, enjoyed an upswing for only a year before dropping again this month.
For years, buyers have been challenged in finding and competing for well-appointed move-in-ready homes. For a short time, growing inventory brought some relief. Keep an eye on these year-over-year inventory levels. If they continue to fall, buyer choices will be limited and sales will slow. Of course, that could create seller opportunities with demand exceeding supply.